New Delhi Travel Guide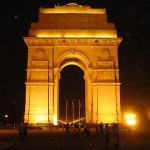 India's capital city, Delhi has been a seven-time destroyed capital in due course of its history, which tells its tales through diversity in its culture, religion, traditions, language, food and more. Business and Political hotspot, it is also quite popular amongst tourists from all around the world, mainly because of being a seamless blend of tradition and modernity. Undoubtedly, the country's most multi-ethnic city, it has not forgotten its history in the wake of becoming a modern one. It draws visitors from all across the country as well as the globe who wish to enjoy a memorable vacation that has to offer a lot.
The world's second most populous city, Delhi is still growing and expanding its boundaries. The landscape of the city is dotted with innumerable tourist attractions, some now in ruins while the other absolutely well-maintained, but each one is worth visiting.
From the perspective of a tourist who is visiting the city for the first time, Delhi can be quite confusing, even if it is divided into Old Delhi and New Delhi. Here is Delhi Travel Guide to help you out:
Stay
Business visitors as well as holidaymakers with all pocket-sizes visit Delhi, from all around the world. To fulfill their needs and meet their preferences, there are several hotels in New Delhi. These hotels are divided into different categories such as 5-star or luxury hotels, 4-star, 3-star and budget hotels in Delhi. The city has some great places to stay-in, wherein, each one offers a comfortable stay amidst modern comforts and impeccable hospitality services.
Delhi has a huge range of accommodation, most of them strategically located, close to railway stations, airport, important business hubs or entertainment centers. You can opt for a stay in extravagant hotels such as The Leela Palace, the Park, Le Meridien, ITC Maurya and more. On the other hand, if you have budget constraints, then also there are several options for you such as hotels in Karol Bagh and Paharganj and hotels like hotels Natraj, hotel Neeru, Hotel Vivek etc. There is no dearth of accommodation for any kind of a visitor.
Eat
Whether you wish to treat yourself in a classic culinary temple or are looking for enjoying a hearty meal in a local food joint, there are innumerable options for you, at any given point of time. Most of the restaurants open till 11, but if you feel hungry in the middle of the night, there are a number of options for you. The food of Delhi is known all around the world. Raajma-Chawal, Poa-bhaji, Tikki, Butter Chicken, Butter Naan, Daal Makhani, Dahi Bhalla, Karachi Halwa, Gujiya, Jalebi, Ras-Malai and list of popular dishes that you can relish goes on. Visiting Paranthewali Galli in Chandni Chowk, Connaught Place, Rajouri Garden market, Ganesh Machici wala, Pandara Road, is a must. If you are looking for enjoying a meal in some top hotels, then you can enjoy a meal at Bukhara-ITC Maurya Sheraton, the Olive Bar & Kitchen, Veda in the outer circle of Connaught Place, Chor Bizarre at Asaf Ali Road and more.
Visit
Locally known as Dilli, Delhi is home to a number of attractions that are worth-visiting. The list of tourist attractions in New Delhi includes Red Fort, Purana Quila, Jama Masjid, Birla Mandir, Lotus Temple, Akshardham Temple, Parliament House, India Gate, Qutub Minar, Humayun's Tomb, Sacred Heart Cathedral, Gurudwara Bangla Sahib, Raj Ghat, Jantar Mantar and so on. Enjoying the nightlife of Delhi is a must. Along with Agra and Jaipur, Delhi is a part of the Golden Triangle Tour, one of the most sought-after tours of India.
Shop  
It is no exaggeration to call Delhi a shopper's paradise. When in Delhi, you must indulge in shopping at the popular markets in Delhi. You have a lot to get your hands at. Delhi markets have a lot to offer- ready-made garments, handicrafts, silver and leather ware, jewellery, silks, carpets, footwear, antiques, men and women accessories and so on. There is an option of locally-made stuff, branded shops as well as designer labels so that you can take a pick according to your pocket. If you have the
12
Mar
Posted:
March 12, 2014 Wednesday at 9:11 am