Markets of Delhi – Perfect Hub for Shopaholics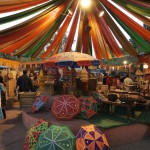 Delhi, apart from being the capital state of India and the house of various historical monuments of India, is a must visit destination for the Shopaholics. There are numerous markets known for their vibrant, and lively atmosphere. Here are the top 10 best Delhi markets for great shopping in Delhi.
1. Dilli Haat:
For a traditional village market experience, visit Delhi Hatt. This is one of the biggest market hubs in Delhi. Here one could buy traditional artifacts that exhibit the culture from every nook and corner of India. Thus, this is one single platform, where the guests could enjoy shopping along with enjoying the mini cultural India. To enter the market premises, one needs to pay a very nominal fee as entry charges.
2. Janpath and Tibetan Market:
This lively and popular Delhi market has shopping options for all. But, to ensure a great shopping experience here, one should have exceptional bargaining skills. The gamut includes leather work, hippy clothing, Indian artifacts, cheap jewelry, handicrafts, and much more. The quality of the products makes it value for money.
3. Khan Market:
If you love classy shopping, then Khan Market is the place for you. This place is a disheartenment for bargain hunters as this is a fixed price market. Apart from shopping, this is also a great place for youngsters to hangout as various eateries are available. If you are looking for tailored and branded clothes, interesting books, Ayurvedic food, cosmetics, beautiful lamps, etc. Khan Market is the place to go for.
4. Paharganj:
Now this is a market that is most loved by the bargain hunters. The shops here are mainly into wholesaling and exporting of goods. This is the place where one could find inexpensive yet quality commodities like clothes, textiles, handicrafts, hookah pipes, jewelry, and much more.
5. Chandni Chowk:
Chandni Chowk is the perfect shopping spot for the shoppers looking for exclusive dress materials. The interwoven lanes also add the element of adventure in the amazing shopping experience. Don't make your plans to visit Chandni Chowk on Sunday as the market is closed. You may shop here for electronic commodities, fabrics, etc., at lucrative prices.
6. Sarojini Nagar:
Now, if you only prefer designer clothes, then Sarojini Nagar is the perfect market to visit. Here, one can find designer clothes at reasonable prices. The clothing range is available from all top brands and at relatively low price. The price difference is because the goods here are either rejected from export, surplus production or nominal manufacturing defect that are hard to spot. Except Mondays, you may visit here for great shopping and purchase fashion accessories, branded clothes, and lot more.
7. Lajpat Nagar:
Along with shopping, here you could trace the cultural richness of India. The Central Market of Lajpat Nagar is the popular market for the middle class shoppers. Shoppers could get some of the exclusive clothes from some of the renowned outlets. Apart from the range of home furnishings, bags, clothing, etc., you could also get some lovely designs on your hands from the Mehendiwalas sitting at various locations of the market.
8. Laxmi Nagar:
This is again one of the bustling bazaars of Delhi. Products, ranging from electronics to vegetable, are available here at great prices. Vikas Marg area is popular for electronic items. The V3S Mall is also very popular as a shopping destination along with Vijay Chowk, 'mangal bazaar' (Tuesday Market), etc. name it and you have it in this market, and that too at amazing prices.
9. Karol Bagh:
Now, this is the market for the affluent people. The streets, Ajmal Khan Road, Ghaffar Market, and, Arya Samaj Road are known as the hub for shoppers. Along with local market commodities, one could also find various western business outlets. Clothing, shoes, accessories, all are available and in exclusive range. Various eateries are also available offering great hangout options.
10. Kamla Nagar:
The shoppers looking for popular fashion brands, Kamla Nagar is the perfect shopping location for them. Apart from street side shops, there are numerous showrooms of popular brands on the Chhota Gol Chakkar and Bada Gol Chakkar. The market is closed on Monday. People wanting to taste the spicy street food of India could also visit the Kamla Nagar market.
23
Jul
Posted:
July 23, 2013 Tuesday at 9:55 am