New Delhi Hotels: Best Affordable Accommodations for Relaxing, Romance, Luxury and Business!
New Delhi, the capital city of India, is an ideal place to visit for tourists who visit the country. It is the second largest metropolitan city of the country. Various dynasties have ruled over the city, especially Mughals, and hence the historical sightings in and around Delhi are tremendous.
Delhi is a one-of-a-kind city as in one corner it oozes out the glory and magnificence of the historical days and while at other corners, Delhi shapes up the future of the country.
For venturing out the architectural beauties of India, one must visit the congested, crowded and crammed up town of Old Delhi. Or one can experience India's growing modernity by visiting the well-planned town of New Delhi.
With amazing tourist attractions like Akshardham Temple, India Gate, Old Fort, Jantar Mantar, Hauz Khas Village, Khan Market, Qutub Minar, Red Fort and many more, Delhi has become the hub for tourists for the year.
The best feature about Delhi tourism is that with abundance of  hotels in New Delhi, one need not worry ever about where to stay in New Delhi.
In Delhi, hotels can be divided according to various categories which can be either done by the star-rating or by the purpose of your visit.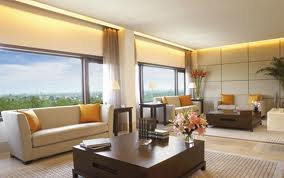 Five-Star Hotels in New Delhi
When it comes to luxury five-star hotels, New Delhi is the idyllic destination in India. When it comes to the comfort and luxurious aspects, these hotels are at top of their game. Perhaps, this is the reason why the five-star hotels in New Delhi have been a common visit of various local and foreign political leaders, high class business tycoons and even award winning film celebrities.
Every luxury hotel is located in the high class, sophisticated and posh areas of the city. The hotels offer some of the best luxury suites in the country and the food served in some of these hotels have been recognized all over the world.
For international business travelers, New Delhi Five-star hotels have become a favorite haunt to conduct seminars, product launches, page 3 functions, conventions, fashion events, etc.
Some of the best luxury five-star hotels in New Delhi include Hotel Oberoi, The Taj Mahal Hotel, Le Meridien, ITC Maurya, Hyatt Regency, etc.
Four-Star Hotels in New Delhi
It would sound almost impossible to believe if one tells you that you can experience the same luxuries of a Delhi Luxury Hotel, at much lower rates. In Delhi Four-star hotels, it becomes a reality. These hotels serve guests and tourists with unbelievable amounts of exuberance and splendor.
If one wishes to experience the real sense of Mughal hospitality that they have so far only heard or read about, then all they need to do is a book a flight to Delhi, and hire a cab to some of the top rated 4-star hotels in New Delhi.
The services in these hotels have been surprising centuries of tourists and for locals and tourists alike, these 4-star hotels have become the favorite accommodations.
Some of the best 4 star hotels in New Delhi include Hilton Garden Inn, Radisson Blu Marina, Hotel City Park, Lemon Tree Hotel City Center, Oberoi Maidens, etc.
Since, the capital city of India is Delhi and the focus of political supremacy falls in here, it has become the best destination for Indian and international corporate to promote their business ventures. The inflow of business travelers to the city has increased dramatically over the years, and for their accommodations, Delhi has some of the top quality business hotels.
The locations of New Delhi Business hotels have been strategically planned. All these hotels are built in close proximity to the International and Domestic Airport and also with the major business districts in the city.
For business guests, there are numerous luxurious amenities that would help them in their business transactions including audio-visual screens, computers, fax machines, business centers and WI-FI internet. The experienced staff in these hotels always goes one step further to guarantee the success of the events conducted by the esteemed businessmen.
Some of the best business hotels in New Delhi include Hotel Diplomat, Hotel Asian International, Hotel Rajhans, Best Western Resort Country Club, Hotel Parkland Green Park, etc.
Spa Resorts in New Delhi
After a tiring holiday or business excursions in New Delhi, all one could think about is going to their hotel and take a relaxing spa massage. In Delhi top rated- Spa Resorts, tourists receive exactly what they wish for.
Spa Resorts in New Delhi offer a perfectly relaxing spa treatments and facilities so that guests do not feel drain out after a long day tour to Delhi. The comforts of guests are the first motive in the minds of the very warm staff in these spa resorts.
Numerous spa resorts, in the capital city of India, are known for the perfect blending of the traditional Ayurvedic treatments with the modern therapeutic techniques so that one could soothe his/her mind, body and soul.
Some Delhi spa hotels have gone one step further and created various new philosophies to provide holistic wellness to the guests.
Some of the best spa Resorts in Delhi like Vivanta by Taj Ambassador, Jaypee Siddharth, Ashok Hotel, Taj Palace Hotel, The Grand, house some of the renowned spa facilities such as Kaya Kalp, Lavanya and Jiva.
Romantic Hotels in New Delhi
It is a fact universally acknowledged that New Delhi has been a favorite honeymoon destination for couples for a long time. Apart from the various heritage monuments in the city, the Romantic Honeymoon Resorts in New Delhi are primarily responsible for promoting this form of tourism in the city.
All New Delhi honeymoon resorts are furnished elegantly and beautifully to provide a romantic aura. The additional features of private swimming pools in rooms at most of these resorts elate the newly-weds.
The best aspect of these romantic hotels is their secluded, isolated locations that offer a completely private time to couples so that they can come to Delhi and fall in love all over again.
Some of the best honeymoon resorts in Delhi include Imperial Hotel, Trident Gurgaon, The Westin Gurgaon, etc.
Budget Hotels in New Delhi
Tourists who visit the city but have major budget constraints and do not wish to spend lavishly, Delhi hotels do not disappoint them as well.
The city has some of the most preferred sections of budget hotels which are as comfortable to stay in as any other hotel in the city.
At vey cheaper rates, one could enjoy their stay in Delhi to the fullest by selecting any of the New Dlehi budget hotels to stay in.
Some of the best budget hotels in New Delhi include Hotel Vishal Residency, Hotel Kabeer, Hotel Natraj, Hotel Rama, Hotel Airport, etc.
02
Jan
Posted:
January 2, 2014 Thursday at 11:28 am