Relish Dining at Some of the Finest Restaurants in Delhi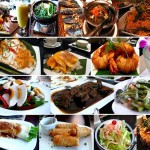 Every traveler, may it be business or holidaymaker, is a foodie at heart. There also are some guests, who visit India especially to savor some of the delectable food served at top restaurants. Delhi is dotted with numerous restaurants that are known for scrumptious food and exceptional décor. Thus, here is a list of popular restaurants of Delhi that are known for satisfying the tastebuds of the guests and won't disappoint its guests at any grounds.
1. Bukhara
Now, if you have enough of cash to spend, Bukhara is the place to please your tastebuds. This restaurant has been crowned with various awards like "Best Restaurant in Asia" and "Best Indian Restaurant in the World". The Restaurant Magazine in the UK has also awarded the restaurant that further adds to the credibility of the restaurant. Apart from this, the rustic atmosphere, huge family-size naan bread and unforgettable kababs are also the factors that mark the uniqueness of this restaurant. Make sure of reservation in advance to avoid inconvenience.
Address: ITC Maurya Sheraton Hotel, Diplomatic Enclave, Sadar Patel Marg, New Delhi.
Opening Hours: 12:30pm to 2:45pm for lunch on weekends; 7:30pm to 11:45pm for dinner daily. Advance booking required.
What's Good: Burrah Kabab and Murgh Malai Kabab
2. Karim Hotel
Since 1913, this hotel is known for providing some of the delectable delicacies. It's the fourth generation of the management looking after the working of the hotel. The décor of the restaurant might not impress you much, but the delicious food is all to make up for. This hotel is highly popular in Delhi for providing inexpensive and best Mughal style cooking. This is also one of the factors attracting visitors to visit Old Delhi.
Address: 16, Gali Kebabian, Jama Masjid, Old Delhi.
Opening Hours: 7:00am to midnight.
What's Good: Dil Bahaar Dopiaza Stew, Dil Pasand Seekh Kabab.
3. Veda
This is a restaurant that spells the magic on its guests with its amazing setting, interiors and scrumptious food. There is a flicker and shimmer in everything you see here like chandeliers, candles, decorated glasswork dome, mirrors and much more. The bricks and rich deep red velvet curtains also add an inexplicable charm to the restaurant.  The menu includes myriad traditional as well as contemporary Indian cuisine, and an attractive wine list.
Address: H27, Outer Circle, Connaught Place, New Delhi.
Opening Hours: Noon to 11:30pm
What's Good: Lamb Leg
4. Punjabi By Nature
This is one of the hip and elegant places in Delhi to enjoy delectable meals. The waiters here are dressed in traditional Punjabi clothing. The unique vodka gol gappas have also attracted guests to Punjabi By Nature. The restaurant is known for excellent food, generous servings and warm & inviting atmosphere. As the restaurant is located in a shopping complex, you can combine the dining experience with stylish shopping.
Address: 11, PVR Priya Cinema Complex, Basant Lok, Vasant Vihar, New Delhi.
Opening Hours: 12:30pm to 11:00pm
What's Good: Raan-e-Punjab, Naan bread, and Vodka Gol Gappas.
5. Chor Bizaare
In order to ensure a unique experience, this restaurant has presented itself after being motivated from 'thieves market', common in big cities of India. The eclectic collection of items, showcasing old-world atmosphere, are something that attract guests to spend quality time here. Coming to the menu, finest cuisine from northern Kashmir region of India are included and offered at great prices. The visit here is a great value for money, as guided Delhi walking tour along with lunch is also provided to the guests.
Address: Hotel Broadway, 4/15A Asif Ali Road, New Delhi.
Opening Hours: Midday to 3:30pm for lunch; 7:30pm to 11:30pm for dinner.
What's Good: Wazwan' ceremonial feast
26
Jul
Posted:
July 26, 2013 Friday at 11:51 am